Yacht Devices J1708 Engine Gateway brings data from older engines to NMEA 2000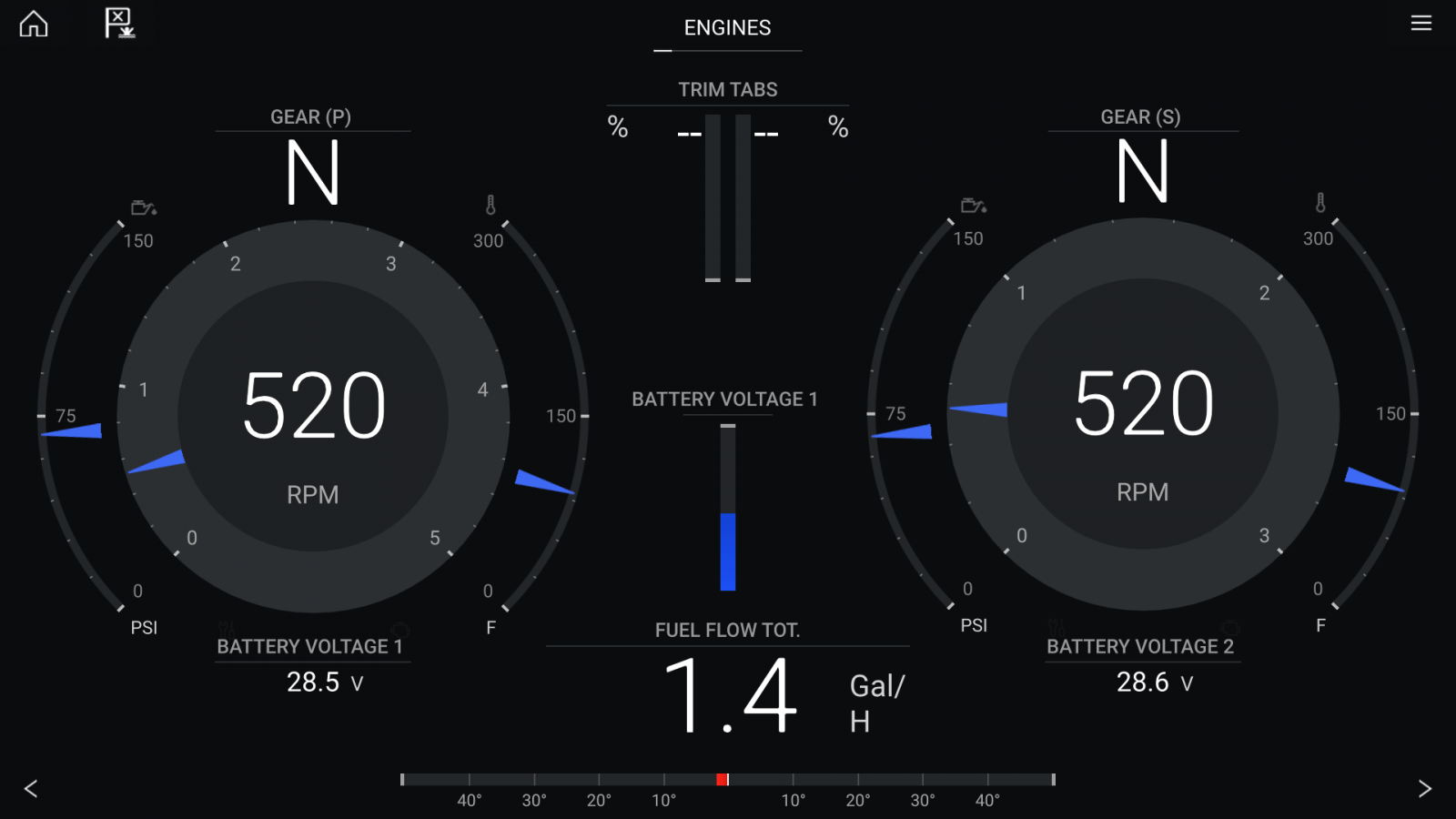 When I bought Have Another Day I really wanted the data from my early electronically controlled diesel engines available on my MFDs. I've had access to this data previously and knew the value of the data for fuel management and engine monitoring. My path to getting that data wasn't easy but I think I helped blaze a trail to easy engine data on your NMEA 2000 network.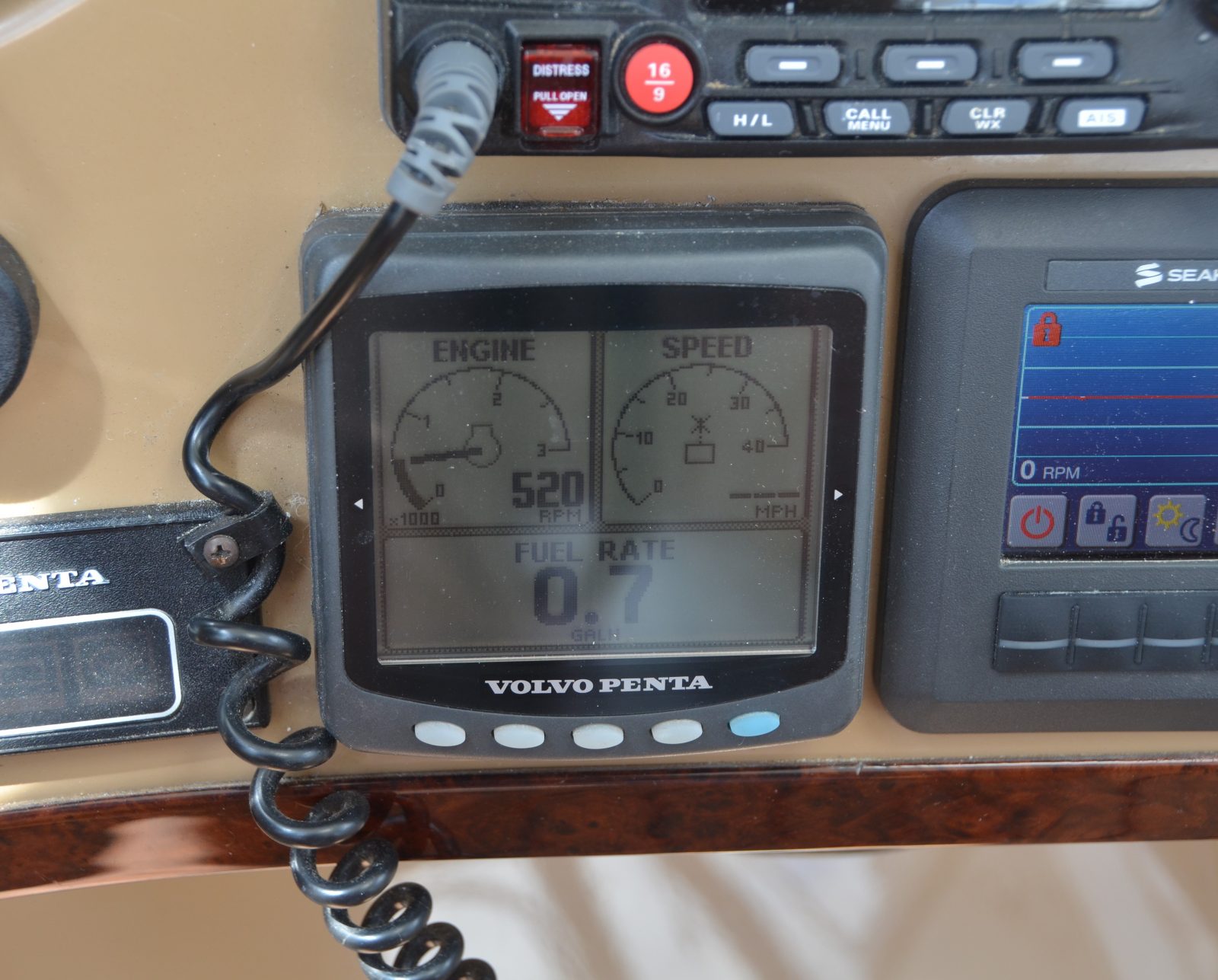 The monochrome 4″ electronic engine displays that came on board Have Another Day only display a few pieces of data at a time and don't age well. As they get older the displays tend to become heat sensitive — turning off in direct sunlight isn't an attractive habit for engine displays — and the displays develop dark spots making them very hard to read. My displays exhibited both problems and after spending several boat units repairing them I decided to redouble my efforts to find a workable NMEA 2000 option.
Failed attempts
When I bought Have Another Day one of my first projects was to connect her 2002 era Volvo-Penta D12 EDC engines to a NMEA 2000 network. Research at that time suggested the engines likely communicated using J1939. My first try was a Maretron J2K100, an excellent J1939 converter, but I couldn't get any data out of it. Eventually I ordered a Yacht Devices YDEG-04 (also a J1939 to NMEA 2000 converter) because I read of success with older Volvo-Penta engines. Lots of back and forth with Yacht Devices resulted in finding an RPM only J1939 stream used for RPM sync. Unfortunately, that turned out to be the only usable data on that stream.
A Solution
Over the course of several months I worked with Yacht Devices' principal, Aleksandr Gorlach, and an oscilloscope to capture the data on the CAN bus network between the engines and the display. From these captures Aleksandr figured out the engines and displays were using J1708, an older serial protocol used by industrial engines. As a result, Yacht Devices developed the YDES J1708 to NMEA 2000 engine gateway.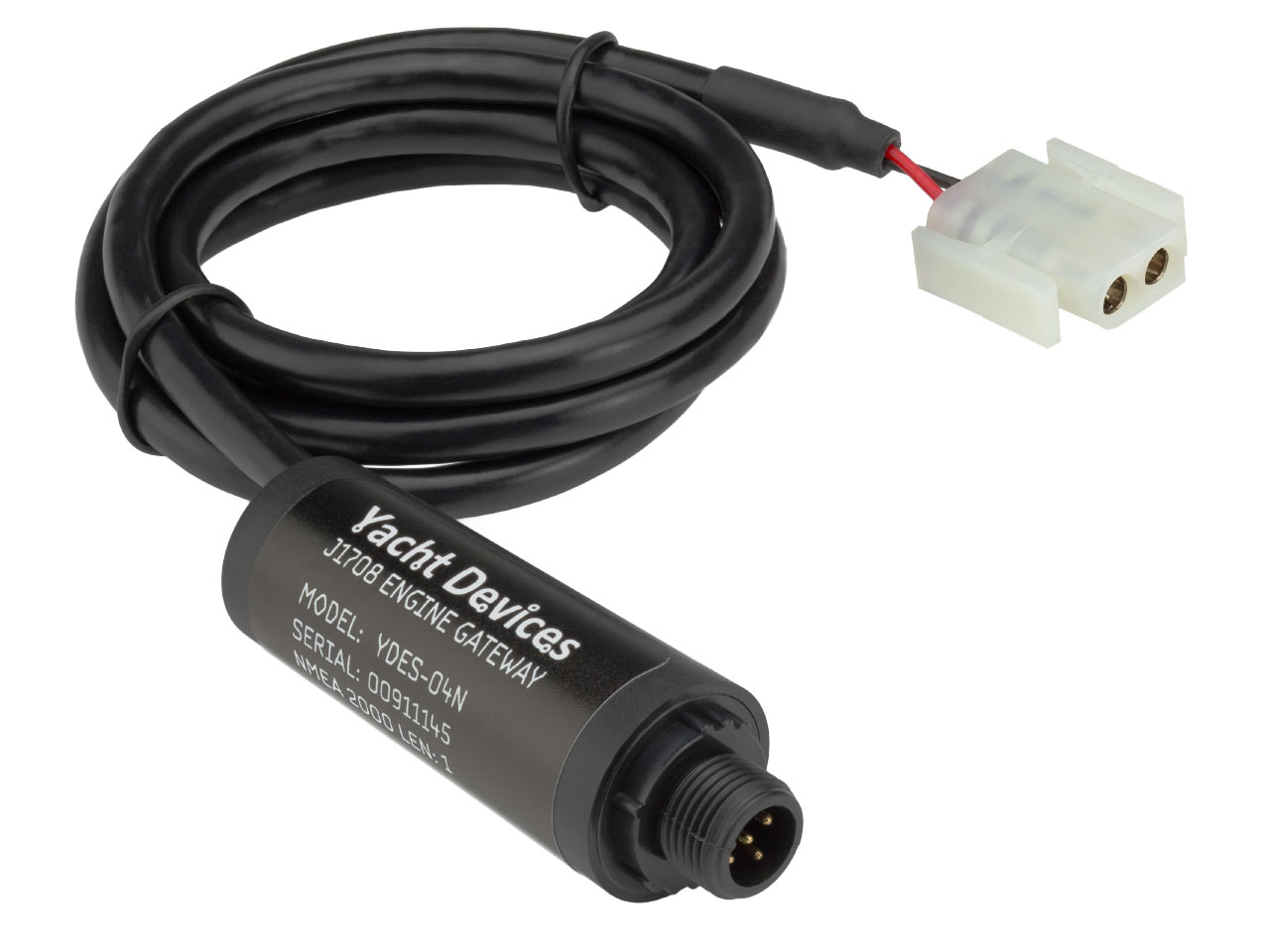 The YDES-04 — available both with NMEA 2000 DeviceNet connectors and Raymarine SeatalkNG connectors — is capable of decoding J1708 (the physical protocol) carrying J1587 (the logical data protocol) and Volvo-Penta's KAD protocol (used on KAD and TAMD series engines). The list of supported data varies by protocol with a fuller set of data supported via J1587.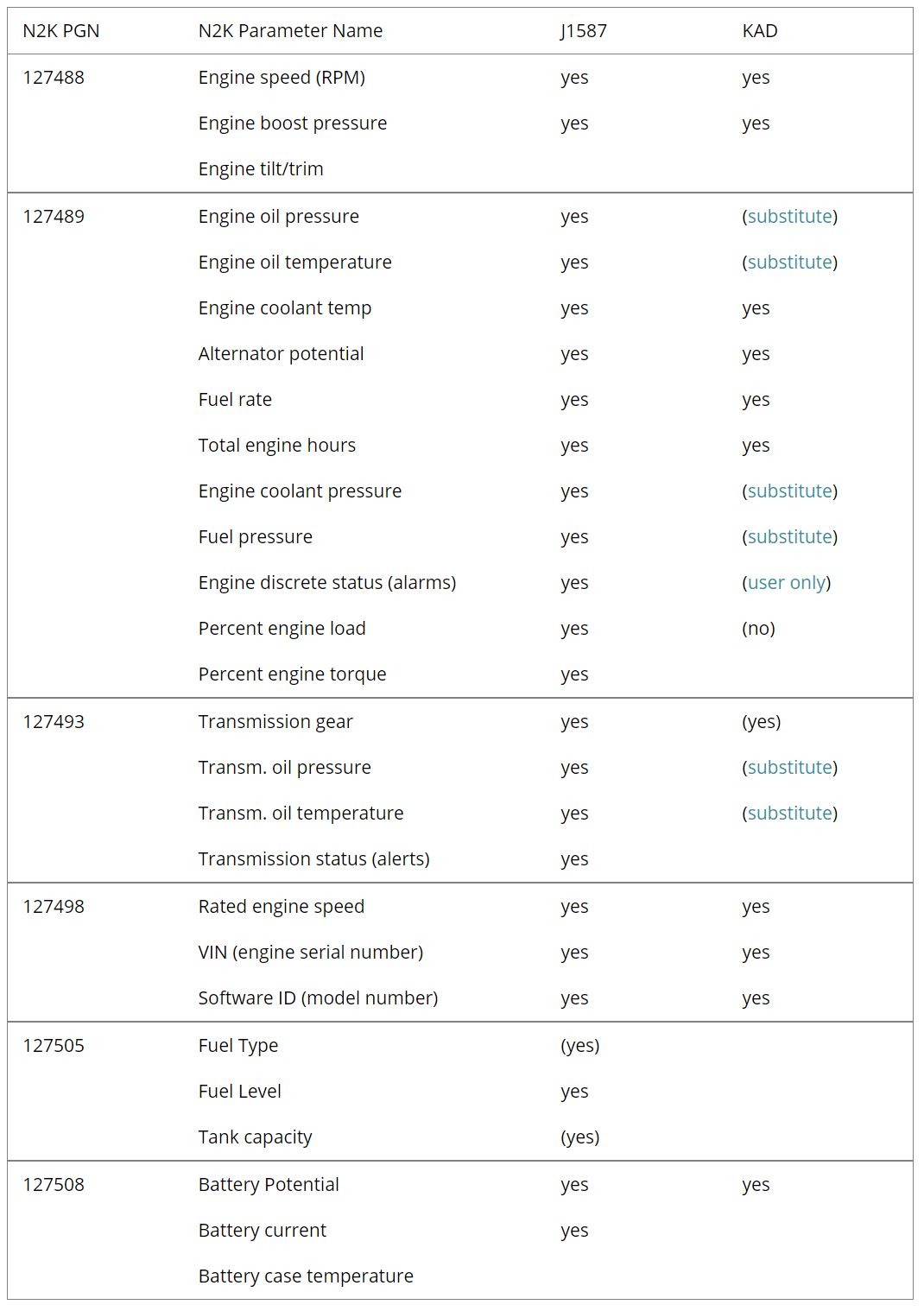 The table above shows not only the data available via each protocol but also what data can be substituted into the data stream from another sensor. Substitute data can come from other Yacht Devices sensors to augment data the original engine control unit (ECU) didn't provide. The KAD series engines didn't run the oil pressure sensor into the ECU so the YDES doesn't have access to that information. But, you can use a Yacht Devices tank adapter (which can convert any resistance type sender's data to NMEA 2000) to read values from the pressure sensor and insert those readings into the engine data stream.
Installation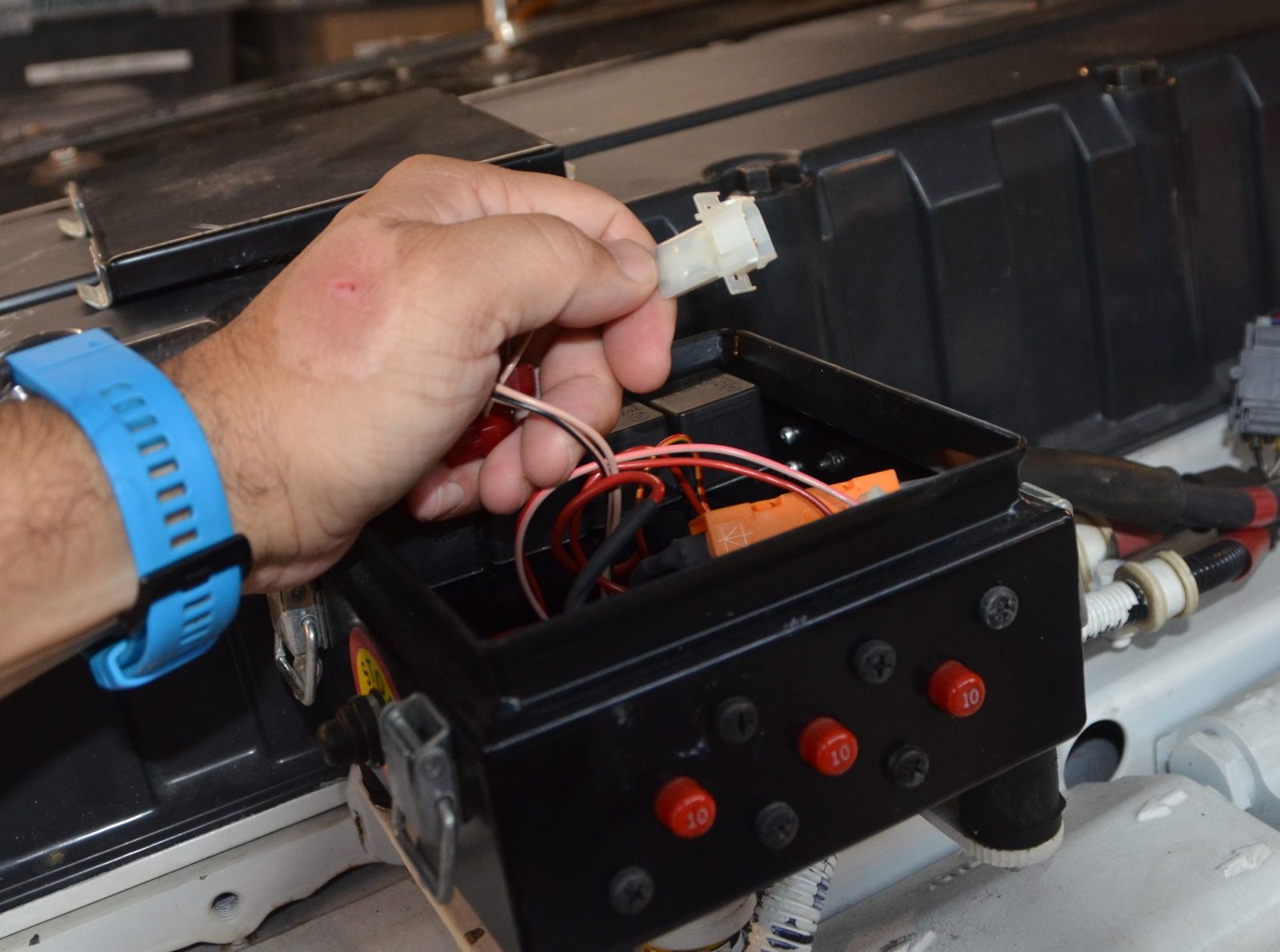 Installation varies from engine to engine. On most of the Volvo-Penta EDC I and II engines it's quite simple. The white, nylon, two-pin connector that comes on the YDES is the mate to the diagnostic connector on the engine. In Volvo-Penta TAMD-73,74 and 75 engines as well as D12s that connector is located in a black metal box on top of the engine. Physical installation is as simple as connecting to the two-pin diagnostic connector in the box and connecting the other end of the YDES to your NMEA 2000 (or SeatalkNG) network.
Once the device is physically connected it may need some configuring. Like many of Yacht Devices' products, configuration is performed with a text file copied onto a MicroSD card and then inserted into the card reader on the top of the device. The sample configuration above sets the engine ID to 1 (port is 0 and starboard is 1), tells the gateway to use the KAD protocol (if this is set to auto, the gateway will typically self discover between J1587 and KAD without trouble), sets an hours offset of 1250 (for cases where an ECU has been replaced), sets the fuel to diesel, tells the gateway to use the builtin requests for engine data (rather than user defined requests for unusual engine configurations), and finally tells the gateway to substitute oil pressure data from the sensor with an instance ID of 5. Once the configuration is read, it's written to the device and the MicroSD card can be removed.
Using the data
Once engine data is on NMEA 2000 the data can be displayed on any NMEA 2000 compatible display. Above is a screenshot of the web gauges built into all of Yacht Devices WiFi gateways displaying data from my engines. These gauges and a cheap tablet can make an effective second set of gauges anywhere on the boat.
If you're reconfiguring your helm, displaying engine data on an MFD or small gauge display can recover precious dash space from your analog gauges. A side note on that, if you're going to remove analog gauges and have the opportunity I'm a big fan of keeping them mounted somewhere on the boat, perhaps in the engine room above the engines.
Other Engines
I've concentrated on Volvo-Penta engines with the YDES but it is also suitable for several other engine manufacturers who used J1708. Caterpillar and Cummins used J1708 for several years on a number of their engines.
But, starting in about 2004, J1939 replaced J1708 as the protocol of choice. There are now many engines including Caterpillar, Cummins, Volvo-Penta, Yanmar, gasoline engines with MEFI-4B (and later) ECUs, and many others that utilize J1939. Yacht Devices offers the YDEG-04 J1939 gateway, Maretron offers the J2K100 and now quite a few MFD manufacturers are beginning to build J1939 converters right into their high-end MFDs.
For owners of older engines without an ECU there are several options. Actisense offers the EMU-1 and Noland Engineering has the RS11. Both are analog to NMEA 2000 gateways. Ben Ellison has an EMU-1 running on Gizmo and has been quite pleased with the results. Both these options will require more installation, configuration and calibration work than the protocol converter gateways that are largely plug and play.
Lastly, for owners of gasoline boats with MEFI-1, 2, 3, or 4 ECUs, Fox Marine has a series of gateways for converting from these ECUs to NMEA 2000.
Regardless of which converter is employed, I believe the returns from engine data on NMEA 2000 are clear. Many early electronically controlled engines weren't outfitted with electronic displays. Without these displays operators don't have a way to monitor fuel flow — without use of separate flow meters. Access to fuel flow data can massively improve efficiency. I keep tabs on my fuel flow and speed when running. I frequently find that reducing my RPMs just a little bit may result in a drop of multiple gallons-per-hour of fuel consumption but only cost me one or two tenths of a knot.
I've helped lots of folks install engine gateways so if you have any questions, please fire away in the comments.
Note: This entry focuses on Yacht Devices' products. In addition to being the publisher of Panbo, I own the U.S. distributor of Yacht Devices. It was actually the process of getting my engines monitored that caused me to start working with Yacht Devices. We have high standards for impartiality at Panbo and I've taken great pains to ensure the editorial side of Panbo is always kept separate from advertising or any other businesses I'm involved in. Our about page describes our commitment to keeping the two separate and I welcome a conversation about any concerns or desire for clarification.